Tag Archives:
Ray Shamie
The Boston Sunday Globe ran a story titled Mass. Republicans in disarray as elections near, which did not fall like a thunderclap among followers of Massachusetts politics. The best commentary came from my colleague Professor Ubertaccio who tweeted:
In a time like this, there is only one thing to do:    Head for the book shelf and take down the copy of Ted Frier and Larry Overlan's Time for A Change: The Return of the Republican Party in Massachusetts.
My colleague Professor Duquette has labored mightily to defuse the fairy tales that dominate media and "insider" discussions of campaigns. But a post from Rep. Dan Winslow (now a candidate for U.S. Senate) at Redmassgroup.com in which he praises the late Mass. GOP chair Ray Shamie shows there is more work to be done. In Sharing Thoughts from Ray, Rep. Winslow writes: "At a time when the MassGOP seemed beyond hope, we pulled ourselves up by our grassroots and under Ray's leadership won half the constitutional offices, many legislative offices, along with two congressional seats."
That is not so much wrong as misleading.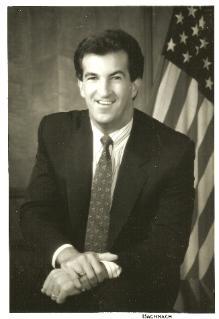 This is the weekend when the best of pols know in their gut whether the game is won or lost.  Those with the skill and fortitude will listen to their instincts.
For those who know Tuesday will be a sad night, I bring you the memory of 1988 and a 33-year-old loser named Joe Malone