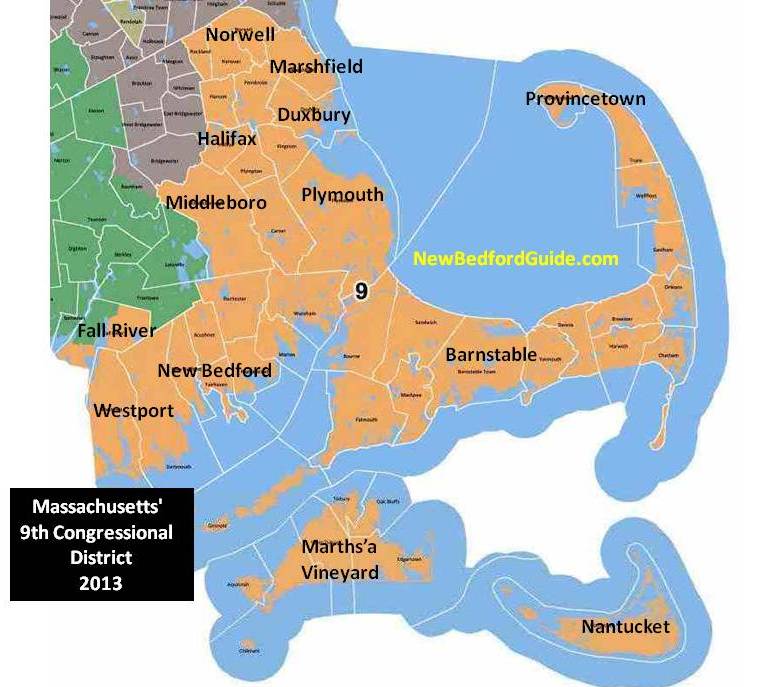 You might be forgiven for thinking the general election is well underway in the 9th District and Democratic incumbent Bill Keating is in trouble.
You've been misinformed.
Recently both former Senator Scott Brown and former Senate candidate Gabriel Gomez lent their support to Republican candidate John Chapman.  The former Romney aide promptly took his talking points from DC, attacking Obamacare and noting
Sometimes I imagine our congressional delegation almost like a scene out of the show "Walking Dead" — marching like zombies in lockstep to cast votes for the (House minority leader) Nancy Pelosi agenda
Mr. Chapman fancies himself a zombie killer and given Bill Keating's poor 4th quarter fundraising, some see in the former DA a walking deadman.  David Bernstein recently tweeted twice on this:
Fundraising #Fail for @USRepKeating: $80k for Q4; $341k for 2013; $418,871 on hand. Wide open for @johnchapman2014. #mapoli #ma9

— David S. Bernstein (@dbernstein) January 31, 2014
And let me say publicly: @DanWolfMA should run for that #ma9 seat. #mapoli

— David S. Bernstein (@dbernstein) January 31, 2014
We all might want to take a pause because, from the historical standpoint, it is more likely that Mr. Chapman will find himself looking for something else to do later this year as Dan Wolf returns to the state Senate and Bill Keating returns to Congress.
First, when Massachusetts Republicans employ the ridiculous language of their partisans in Washington to launch a congressional campaign, you know something is wrong.  Nancy Pelosi's agenda does not scare enough voters here to turn out a Democratic incumbent.  And self-funders like John Chapman show little of fundraising mettle that will attract widespread support.  The NRCC will be happy to share its talking points–those that work really well in the south and west and among the small but hardy band of tea partiers here–and very little of its vast fortune.
Second, Mr. Chapman's pro choice and pro gay marriage viewpoints–winners in Massachusetts politics–may not be so winnable in the GOP primary.
That's right, despite the attention Senator Brown and Mr. Gomez have shown to him, there are three additional candidates in the 9th. Mark Alliegro, a researcher at Woods Hole and an East Falmouth resident and Sandwich lawyer Dan Shores are also in the race.
Mr. Chapman simply cannot be better known to partisans on the ground than the fourth candidate in the race, Plymouth County GOP Chairman Vincent Cogliano.  Parachuting into a district where you've done little organizing over the years does not guarantee a nomination.  And when your views tilt left on those issues important to activists, Gomez and Brown cannot necessarily save you.  Just ask former state Treasurer Joe Malone how the district GOP treats relative moderates who have not been active on the ground.
Finally, and most importantly, the idea that the 9th is winnable for the Republicans really must be taken with a grain of salt.
Scott Brown in 2012 and Gabriel Gomez in 2013 both won the district as their statewide Senate campaigns went down to defeat.  Ditto gubernatorial nominee Charlie Baker who won the district in 2010 as his statewide campaign was losing to Deval Patrick.
The 9th is hospitable to Republicans, with a number of state representatives and a Senate district, the current Senate President's, that could easily go Republican in the next cycle.
It is this the reality that will keep any Democratic incumbents in the 9th District looking over their shoulder.
But there is also another reality that should give the Republicans pause: no Republican has held the Cape-based congressional district since Hastings Keith retired from office in 1973.  Think of the tops of the GOP tickets that have won since then: Ronald Reagan, Bill Weld, Paul Cellucci, Mitt Romney.  None of those successful nominees could dislodge either Gerry Studds or Bill Delahunt.
Neither could Scott Brown, when he was still a veritable superstar in Republican party circles.  In November 2010 his personal appeal could not help elect a single statewide or congressional candidate.
The cycle of boom and bust for the Republicans is likely to find Bill Keating facing a relatively strong opponent every other cycle.  Keating faced two succeeding tough elections thus far:
First, the open seat in 2010.  Keating was able to use his political base in Norfolk County to overcome the support on the Cape for Rob O'Leary and won by 2 points.  He then faced a tough challenge by tea party backed Republican nominee Jeff Perry.  He turned back the challenge by 5 points.
Then the seat was redistricted and Keating confronted a district that no longer had his natural base in Quincy and added geography in New Bedford and Fall River.  Sensing an opportunity that redistricting sometimes brings, Keating faced a stiff challenge from Bristol County District Attorney Sam Sutter but turned it back by just under 19 points.
The GOP in 2012 went to its B-team and nominated a unknown and weak candidate whose consultants also found in DC based talking points something to tweet about.  Keating handily defeated him by an overwhelming 25 point margin.
Keating has survived two general elections with popular Republicans leading the GOP ticket.  Voters in the 10th and then the 9th are perfectly happy to split their tickets, and as my colleague Professor Duquette has noted over and over again, given the trend toward nationalization of political issues at the congressional level, it is more than likely that voters in the 9th will continue to do so.
Consider: Charlie Baker won Keating's district by about 1,000 votes as Keating was overcoming Jeff Perry.  Scott Brown won the district by about 7,400 votes as Keating swamped his GOP opponent.
Voters were comfortable in the 9th voting for Barack Obama, Scott Brown, Bill Keating.
Unlike some of his congressional colleagues here, Bill Keating will never simply coast.  The district will always encourage Republicans and voters in the 9th will have choices their fellow citizens around the state don't have.  But it is still a safe district for Democrats.
Over two generations, no Democratic incumbent has been turned out of a congressional seat in Massachusetts unless corruption is an issue.  Given that reality, his electoral history, and what surely will be his fundraising edge, at this point it's more likely that when Keating leaves Congress it will be his decision to do so, not the GOP's.