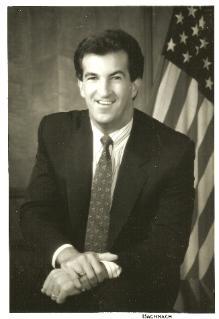 This is the weekend when the best of pols know in their gut whether the game is won or lost.  Those with the skill and fortitude will listen to their instincts.
For those who know Tuesday will be a sad night, I bring you the memory of 1988 and a 33-year-old loser named Joe Malone
Malone was the Republican party's nominee against Ted Kennedy in 1988.  Despite his relative youth, he had long been active in Republican party politics, strategizing with Ray Shamie on how to rebuild the long moribund state GOP (seriously has that party ever been anything more than moribund?).  Malone took on the lonely task of challenging  the state's senior Senator and lost nearly 2-1.
But he lost well.
Malone avoided the tawdry in that campaign.  He offered a principled choice to Massachusetts voters.  It's one they rejected but they didn't reject him.  He would go on to fight another day, elected to two terms as Treasurer.  Malone reached for the golden apple a bit too soon and lost in a bruising GOP primary for Governor in 1998.  But the lesson for candidates today is how Malone approaches his doomed campaign in 1988 and what that experience afforded him.
This may be especially hard for some conservatives to understand, but Massachusetts is a progressive state. It doesn't relish in the Kennedy hatred found elsewhere and it has well-informed voters who have given electoral majorities to Democrats for a very long time.
Republicans can only win in Massachusetts by winning Democratic voters.  Period.  If you wish to run a Texas style campaign, well you should consider moving to Texas.  Using consultants to help you paint progressives as socialists and liberals as brainless will gain you a few retweets on Twitter.
What it will not gain you is high office.
Malone didn't shrink from his conservatism and he ran a strong issues oriented and spirited campaign in 1988.  He didn't go after Kennedy personally, and there must have been great pressure on him to do so.  And he got absolutely trounced.
But his respect for his fellow citizens–and his respect for Democratic voters who voted for Kennedy their whole lives–meant he lived to fight another day.  Voters repaid Malone for that respect just two years later by sending him to the Treasurer's office.   It was a place that suited his politics and though the scandal at the end of his term has clouded his time in office, his efforts at the beginning to break up politics as usual on the Hill should be reexamined.
Too many candidates confuse the cheap attack with meaningful and substantive policy disagreements.   And a good many of those are going to be defeated on Tuesday.  For some of those, they are destined to be forgotten.  A twitter campaign of incessant harping on non issues doesn't make you a contender. Not here.
But some who will lose do in fact have a good deal to offer. They should remember the lesson of Malone.
Lose gracefully and you must might carry the respect of the voters on to the next election.
Lose ugly and enjoy being shunned by the voters whose intelligence you insulted.